Nora Davis Magnet School held our annual Arts and Literacy Night on October 4, 2016.  Parents were invited to come learn more about how the arts are integrated into daily literature lessons.  To begin the night, parents, students, and teachers assembled in the auditorium.  Three grade levels were chosen to perform, and a select group of our fourth graders presented their muppet shows from our Jim Henson unit.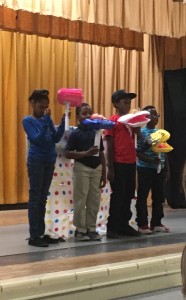 Below, students performed their Muppet show.
The first show was about a brother and sister, Sasha and Cool Man.  Cool Man pranked the Sasha by replacing her soap with shaving cream.  After finding out about this, Sasha took away all of Cool Man's electronics until their mom returned from work.
The second show told the story of a prince and a king.  The king told the prince that he would never find a wife.  The prince, determined to prove him wrong, searched the entire land and finally found a wife that was loyal, confident, smart, pretty, and rich.
After the performances, parents were invited into the classrooms where they were taught a lesson that had been taught to the students earlier during the day.  The lesson integrated text structures and music.  The students/parents sang children's songs, and picked which text structure was found in the lyrics.  This integrated the Principles of Music: unity and variety.  The students sang the songs in unison before picking the text structure from the variety of songs chosen.  Everyone had a great time!